Unveiling the Best of Peru in 15 Days
15 Days / 14 Nights | Starting from
$ 2355 Per person
Personalized journeys designed uniquely for you.
Expert planning by people who care about you and know your destination.
Local guides who deliver personal attention and authentic experiences.
Unbeatable 24/7 support at every step of your journey.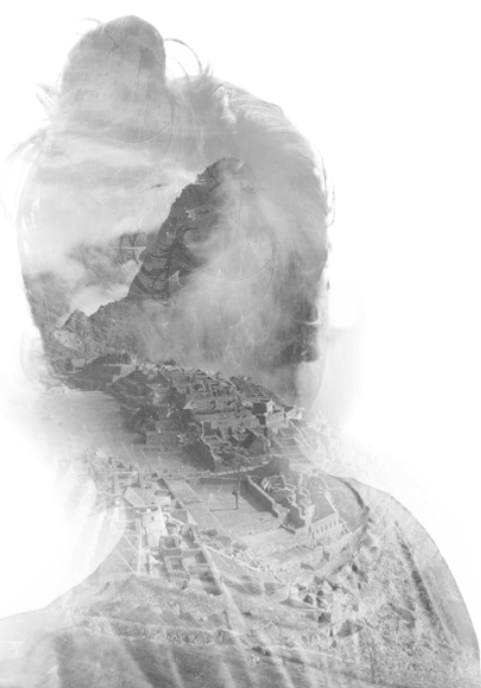 It´s Simple to Book!
3 Steps
---
1. Contact us
2. Customize with your travel advisor
3. Embark in your trip of a lifetime
Why is unique this program?
One of the most beautiful transitions on the planet is found in Peru. It enters its coast with Huacachina as the main destination, then we go up to the Andes where Machu Picchu welcomes us, and to celebrate our trip we go down to the Amazon jungle with its tropical forest and the largest biodiversity. From Peru. ¡Let's visit Peru from end to end!
Itinerary
Upon arrival at Lima airport, you will be met by our representative from Peru Wayna Picchu. You will have a confirmed transfer to your Lima hotel and assistance with registration.
If you arrive in Lima early, take a scenic drive to Parque del Amor in Miraflores for views of Lima's beautiful coastline or dine at one of the city's many gourmet restaurants.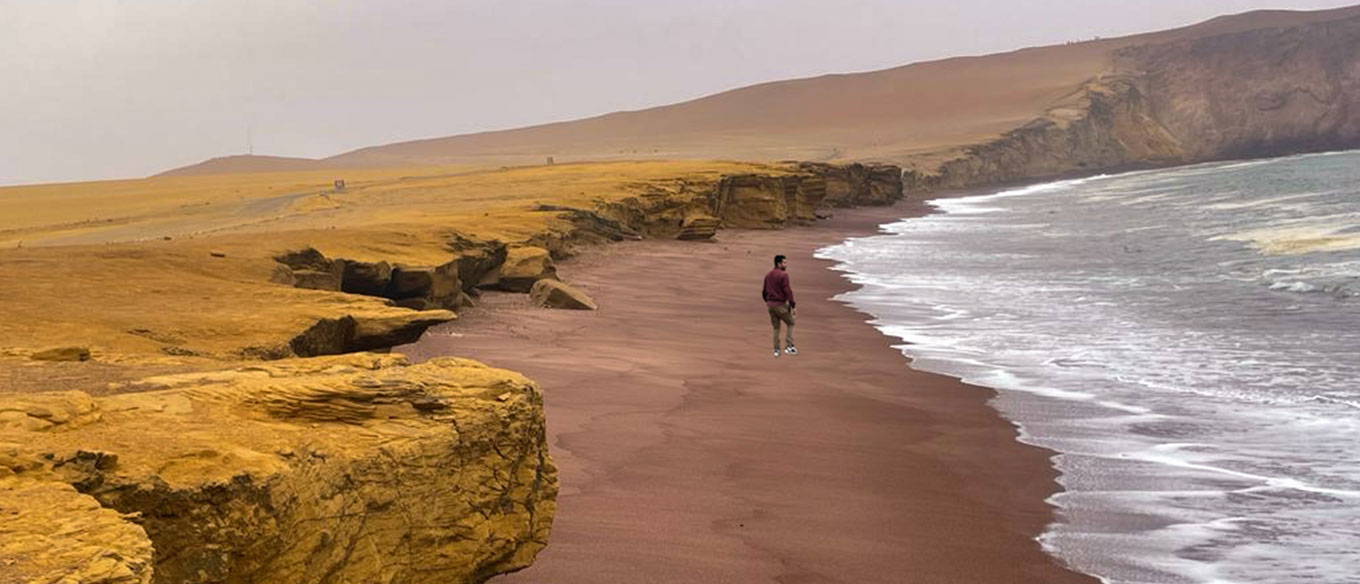 This morning you will travel aboard a comfortable transport to the city of Paracas. Store your luggage here, then board a small boat for a cultural visit to the Ballestas Islands which are one of the most biodiverse ecosystems on Earth smaller than the Galapagos with sightings of dolphins and Humboldt penguins, and more.
A well-deserved lunch at the Paracas pier (not included) begins your visit to the Paracas reserve and sighs with its red beach, After the tour, enjoy the car ride back to your Paracas hotel.
Have a nutritious breakfast at your hotel in Paracas and have a transfer aboard a comfortable bus to the city of Ica. your guide will meet you after lunch for the tour in Huacachina. The tour will include the activities of Sandboarding and descent on a table. The tour ends with a visit to the Oasis. At night we return to Lima Hotel in a comfortable tourist bus.
Fly to Arequipa where you will meet our representative to transfer to your hotel. After some free time, your guide will meet you at your hotel for a tour of the highlights of Arequipa. Take a closer look at the mestizo baroque architecture, visit the Chapel of San Ignacio, the imposing Cathedral Basilica, and the mini-city of the Santa Catalina Monastery. You will then drive to a viewpoint to enjoy views of the elegant city of Arequipa framed by the Misti volcano.
The 3-hour drive from Arequipa to the Colca Canyon passes through the extraordinary landscapes of the Reserva Nacional de Salinas y Aguada Blanca. Pristine landscapes dotted with animals grazing make for fantastic photography opportunities. Before the descent, you'll reach Patapampa Pass at a staggering elevation of 16,109 feet (4,910 meters).
Stop in Chivay village for lunch, visit Calera Hot Springs, and continue to your lodge for a relaxing night. After sunset, we recommend you peer up at the starlit skies untouched by light pollution.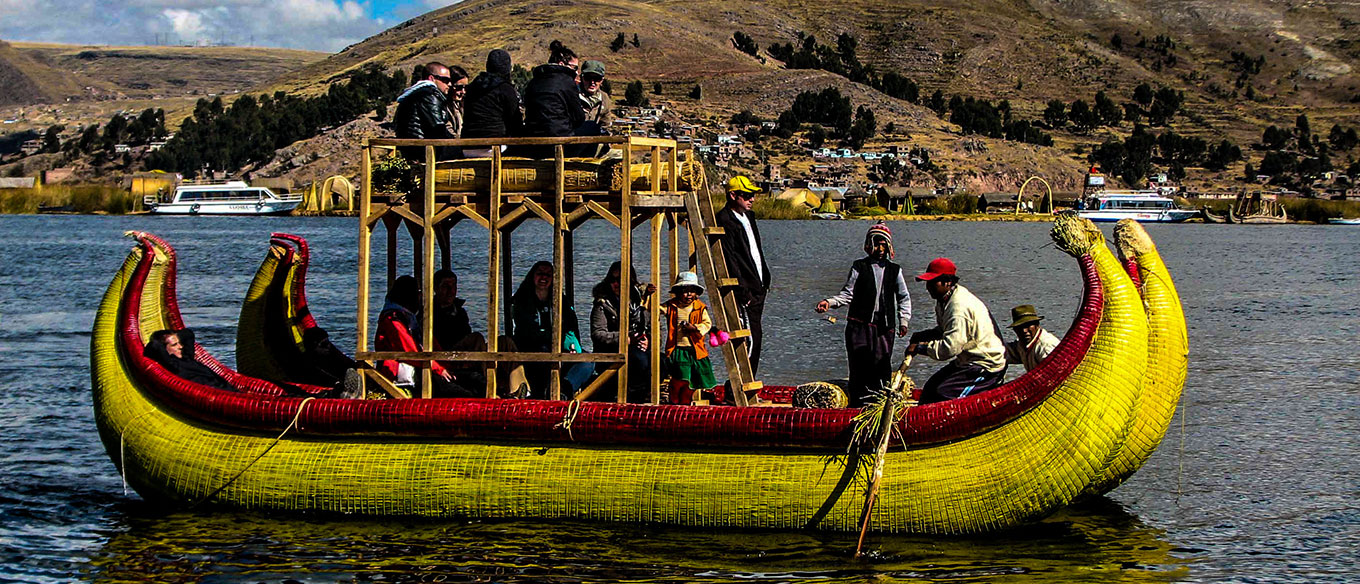 Your guide will meet you early this morning, the choice time to view condors, and bring you to Mirador Cruz del Condor where you'll gaze in awe at the size of the condors gliding on thermal drifts over the gaping canyon below.
Return to Chivay for lunch, and then begin the 5-6hour drive to your hotel in Puno. Remember that Lake Titicaca is higher than the Colca Canyon. Take some time to unwind, try the spa services, or do some light exploring while you acclimatize.
Begin your waterborne exploration of the world's highest navigable lake – Lake Titicaca. Feel the sensation of standing on Uros Floating Islands and learn about how indigenous people maintain their long-held traditions in high-altitude environments. Finish with a hike on Taquile Island to take in a spectacular sunset over the lake before the boat ride back to your Puno hotel.
After breakfast at your Puno hotel, you will be transferred to the train station for your journey to Cusco. train from Cusco to Lake Titicaca is longer than the bus ride, lasting just over 10 hours. The first-class services on the train are significantly more opulent with lounge-chair seating, fine china, and silverware used for first-rate, delicious meals. The train makes stops, and there is a separate lookout car where travelers can leisurely enjoy the scenery of the Peruvian Andes.
After a satiating breakfast, your guide will meet you for the scenic private drive through the Sacred Valley. Your private tour will visit Chinchero´s town then the Moray archaeological site and the multi-hued salt pans of Maras and delight you with the intellectual legacy of the Incas.
The tour ends with a visit to the monolithic fortress ruins of Ollantaytambo but the sightseeing continues. Gaze at the changing landscapes on your comfortable train ride to Aguas Calientes or return to Cusco city overnight.  
An early morning rewards you with a momentous day of exploring the "lost city of the Incas". Your PWP tour guide will take you through the iconic ruins of Machu Picchu, discussing the mystery and skill of its construction while absorbing the magical landscape that surrounds this important ruin. Return to Aguas Calientes for the train ride back to Cusco, where your driver will be waiting for you at the station to take you to your hotel for a well-deserved rest.
Enjoy a final early start to your day and head to Vinicunca, also known as the Rainbow Mountian. On this exclusive tour, you'll appreciate the Andes Mountains as you pass by beautiful snow-capped mountains and unique landscapes.
Watch Alpacas and Llamas frolic along the trail as you walk to the sacred mountain. Learn about the reasons why the Incas and Andean people worship the Pachamama or Mother Earth on this incredible tour of Rainbow Mountain that includes lunch.
Your jungle adventure begins with a flight to Puerto Maldonado. The lodge staff will meet you upon arrival, transfer you to the lodge office to safely store large luggage items, and board a motorized canoe to travel along the river to your lodge. Watch for the first sightings of birds, reptiles, and animals along the banks of the Madre de Dios River. Spend the afternoon with your naturalist guide doing light exploration as you acclimatize to the rainforest environment.
Start your day with a sunrise over the Amazon and breakfast at your lodge before visiting a clay lick where parrots and macaws gather in colorful flocks. Once you've taken any necessary pictures, explore a trail that winds through giant ceiba trees that reach over 500 feet (150 meters) in height. Then, travel by boat to an organic farm where the locals grow a variety of fruits and vegetables, some of which will be strange and some of which will be familiar.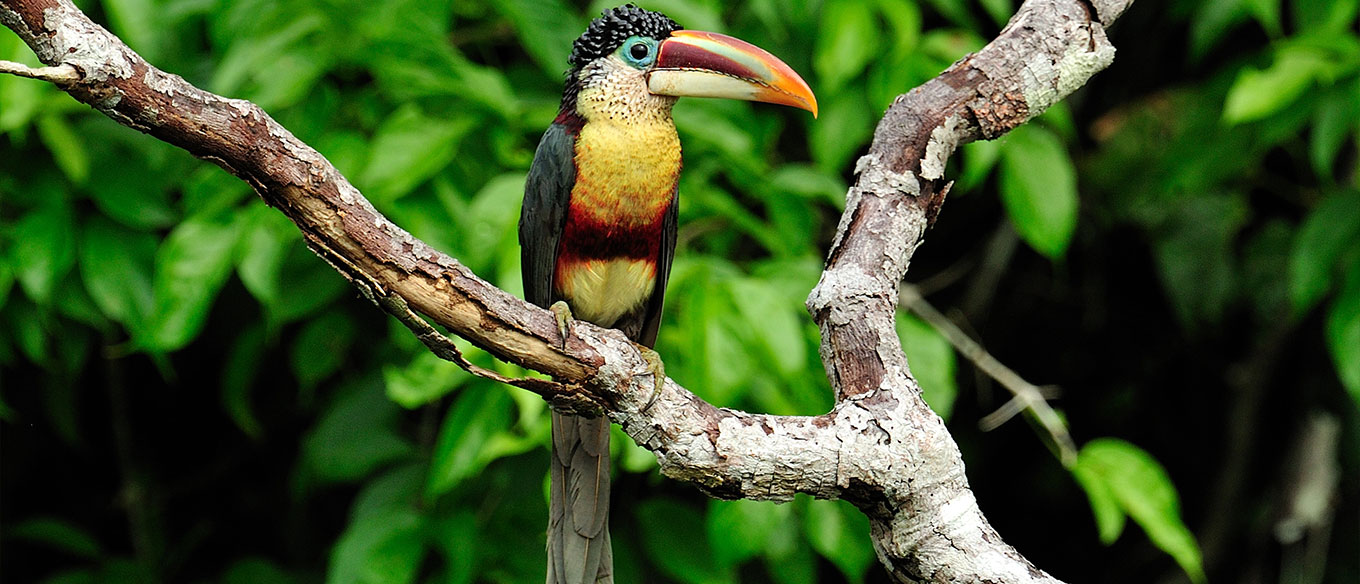 Escape into the bliss of unencumbered nature. Your excursion today will delight you with the incredible biodiversity of Peru's rainforest. Visit an oxbow lake to observe hoatzin birds, squirrel monkeys, giant otters, and black caiman. Learn about medicinal plants and how Amazonian communities use them, and taste flavors only found here.
As night descends, listen to the sounds of the rainforest coming to life while you join your guide to explore the forest and spot critters that only come out after dark.
After an early breakfast at the lodge, you will return to Puerto Maldonado by boat and be transferred to the airport for your flight back to Lima and your journey home or your next destination.
Alternatively, you can customize this package to spend more time exploring the Amazon Rainforest or you can explore our full range of Peru travel destinations and continue your exciting journey to Peru.
Tour Price
Accommodation: Double/DWB
What's Included
Included
11 nights of accommodation in stated hotels
3 nights in amazon lodge
All meals in the lodge
Breakfast at all hotels
Tours stated in the itinerary with English-speaking guides
Transfers and entrance fees
Trains Ollantaytambo – Machu Picchu – Cusco (Vistadome Train for Exclusive and Luxury packages / Expedition Train for Superior packages and without hotel)
Not Included
Airfare
Lunch and dinners (unless otherwise specified)
Airport taxes
Tips
Travel insurance
5 STAR TESTIMONIALS
Our best investment: the opinions of our satisfied travelers
Trip Planner
We customize your travel ideas to your desired satisfaction.